Uganda: President's son loses army post after Twitter spree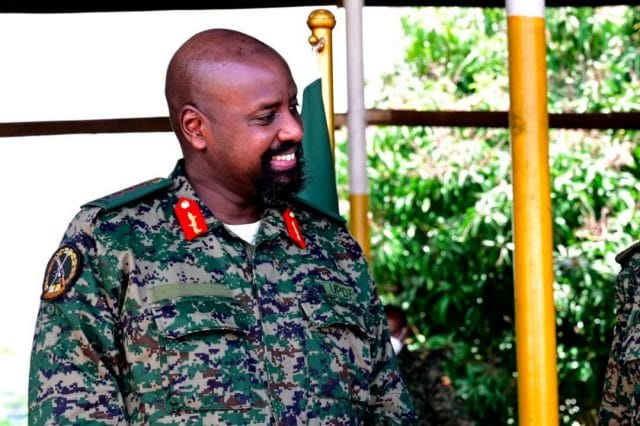 – –


The Ugandan president's son, Muhoozi Kainerugaba, has lost his position as the commander of the country's land forces after going on a twitter spree on Monday.
On Monday, Gen Kainerugaba tweeted that it would take him and his army just two weeks to take over Kenya's capital Nairobi.
He then said on Tuesday morning that he had spoken to his father, President Yoweri Museveni, and realized that his tweets had caused a stir in Kenya.
I would never beat up the Kenyan army because my father told me never to attempt it! So our people in Kenya should relax!

— Muhoozi Kainerugaba (@mkainerugaba) October 3, 2022
Kainerugaba considered his tweets a joke, but Uganda's foreign ministry failed to see the funny side of it.
We "treasure the existing strong bilateral relations" with "brotherly neighbour" Kenya and do not conduct official business over social media, the ministry said in a statement on Tuesday, hoping to smooth things over.
– –

Kainerugaba has now been promoted to the rank of a full general, the highest rank in the army and will remain as presidential advisor on special operations.
Laura Continua, hongera General @mkainerugaba pic.twitter.com/QWfmvGbxdO

— Muhoozi Kainerugaba Parody (@Mkainerugaba1) October 4, 2022
Gen Kainerugaba had previously been commander of the special forces which are in charge of guarding President Yoweri Museveni.
Muhoozi Kainerugaba is considered by some as being groomed to succeed his 78-year-old father in power.
After we create our East African Federation. President Museveni will be President, Afande Ruto will be Vice President, My brother Uhuru will be Foreign Affairs Minister. I just want to be CDF of the East African forces. 😊 pic.twitter.com/4hDOjP7Fn8

— Muhoozi Kainerugaba (@mkainerugaba) October 4, 2022
– –


Gen Kayanja Muhanga, who has led Ugandan army missions in Somalia and is currently leading the contingent fighting the Allied Democratic Front (ADF) rebels in the Democratic Republic of Congo, will take over as the commander of land forces.
Ugandan army spokesman Brig Felix Kulayigye has told the media that Uganda has a good relationship with Kenya and its army cannot invade the neighbouring country.
Source: Africafeeds.com