DR Congo: Pope Francis calls for an end to ethnic differences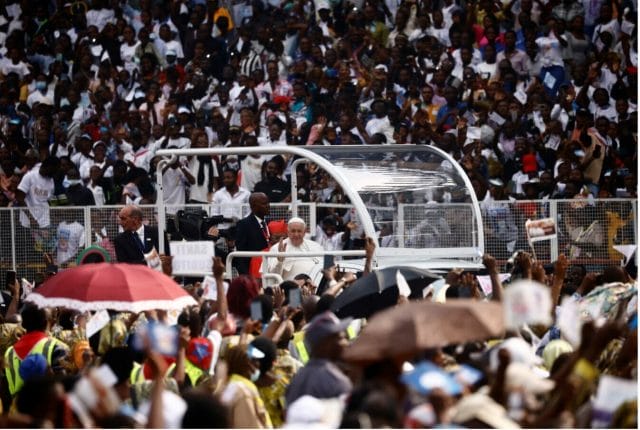 Pope Francis who is visiting the Democratic Republic of Congo has called for an end to ethnic differences.
The pope is visiting Congo for the first time and it is also the first time a catholic pope is visiting the country since 1980.
Pope Francis told young people in Congo that putting aside ethnic differences and building a new future is the way forward.
Eastern Congo has been plagued by violence connected to the long and complex fallout from the 1994 genocide in neighbouring Rwanda. The pope hopes young Congolese could make a difference.
"Beware of the temptation to point a finger at someone, to exclude another person because he or she is different; beware of regionalism, tribalism, or anything that makes you feel secure in your own group," he told young people.
– –

"To create a new future we need to give and receive forgiveness. That is what Christians do," he said while addressing an estimated 65,000 youths at a stadium in capital, Kinshasa.
"You are part of a greater history, one that calls you to take an active role as a builder of communion, a champion of fraternity, an indomitable dreamer of a more united world."
The leader of the also spoke about corruption saying that people should "never give in to [its] persuasive but poisonous temptations".
This is the pope last full day of his trip to the central African nation. On Wednesday he addressed huge crowds at a Mass in Kinshasa calling for peace.
The 86-year-old pope will leave for neighbouring South Sudan on Friday where he will be visiting jointly with the Archbishop of Canterbury and the Church of Scotland Moderator, in what the three Christian leaders have described as an unprecedented "pilgrimage of peace".
South Sudan, the world's youngest country and grappling with conflict and hunger following a civil war that was fought mostly on ethnic lines and killed 400,000 people.
Pope Francis calls for prayers for Ethiopia amid Tigray crisis
Source: Africafeeds.com